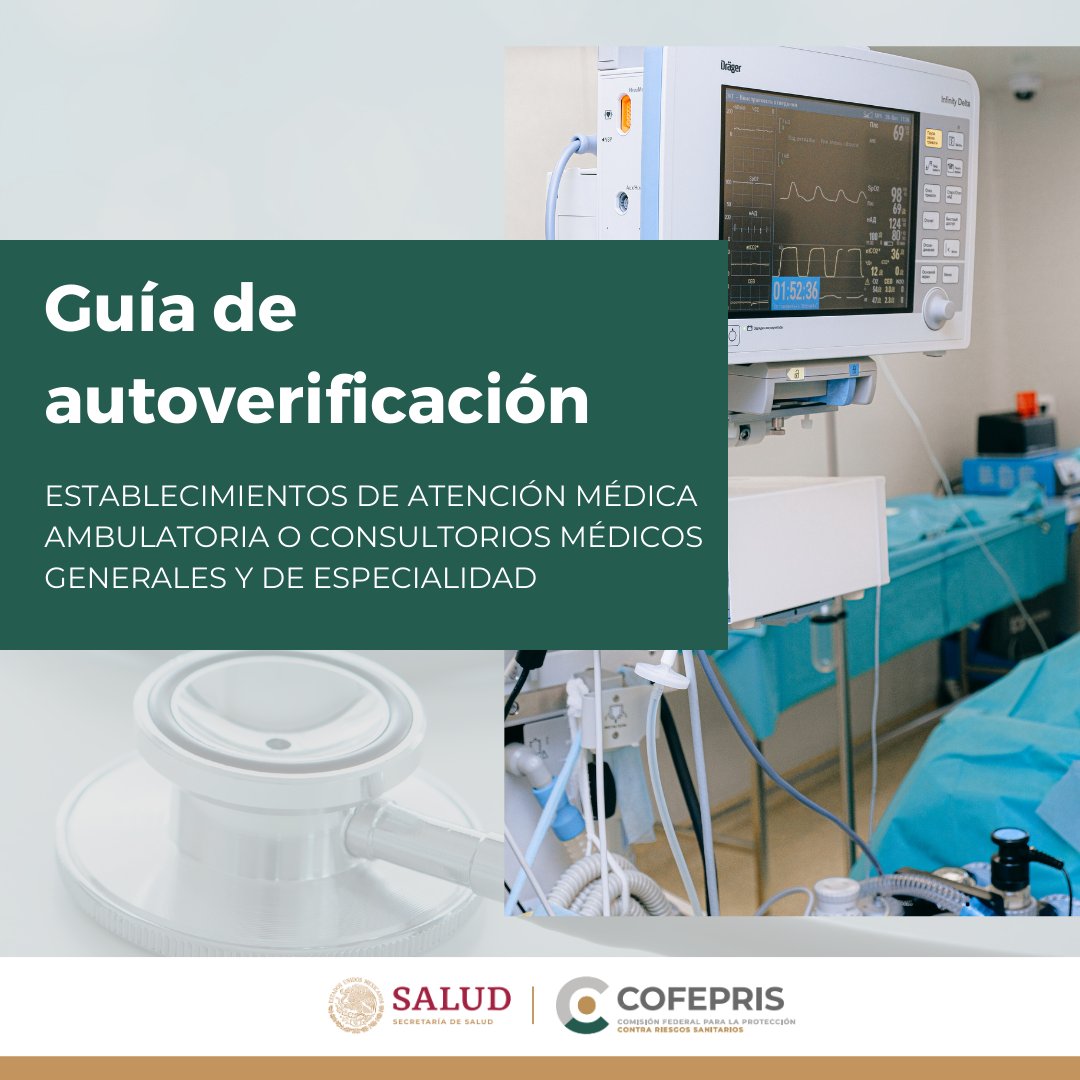 In addition to the economic investment, specialty clinics must meet specific requirements for their correct operation.
Otherwise, not only do they endanger patients, but they can be closed by Cofepris.
In addition, they must also meet the 16 minimum requirements for infrastructure and equipment for outpatient medical care establishments.
Entrepreneurship is a trait that can never be lacking in health professionals. It is not only a vital aspect in personal life but also in professional life. It is also the beginning to open your own patient care business. In the case of specialty offices there are specific requirements that must be met in order to function, do you know what they are?
In the first instance, the medical degree is too long and can also be extended beyond the university. The most chosen path is that of the medical residencies. As of the recent modifications, each year just over 18,000 places are offered in hospitals throughout the country. In addition, there is also the possibility of obtaining a scholarship to study abroad, although at the moment the only option is Cuba.
Legal aspects that should be known
Now, after so many years of study, the desire of many doctors is to open their own workplace. Beyond the financial investment, the specialty clinics must meet certain specifications or they can be closed.
In this case, the Federal Commission for the Protection against Sanitary Risks (Cofepris) is the highest authority on the subject. And precisely he published a guide that mentions all the requirements that specialty clinics must meet.
Preventive medicine
A refrigerator with temperature control and registration that guarantees a constant and uninterrupted temperature according to the needs of the office. In the case of a group of offices in the same unit, a refrigeration system will suffice.
Childbirth care, only applies to the public sector in remote or difficult to access areas
It must have a specific area for childbirth care, which has: reception, observation, expulsion and care in aseptic conditions, resuscitation of the newborn and recovery of the mother.
You must have a sterilization system for the materials or use disposable sterile material.
Likewise, they must have the following equipment, furniture and instruments: expulsion table, Mayo table or similar, Pasteur table or similar, newborn care table, aspirator with probes, baby scale and tape measure, 12L capacity bucket and rollable cuvette holder, umbilical cord tape or umbilical cord clamp, suture set, adult and neonatal resuscitation set, latex gloves, shadowless obstetrical lamp, omphalotome, straight and field ring forceps, IV pole, kidney of 250 ml, catheters to aspirate the newborn, Nelaton catheter, straight and curved scissors, sterile clothing for delivery care, which will consist of: a surgeon's gown, a hand dryer, two leg covers and three surgical fields, sterile clothing for newborn care, which will consist of: a blanket, a sheet, a double field and a single field.
General Surgery and Reconstructive Surgery
If it is not integrated into a hospital, it must have a sterilization system, preferably an autoclave and chemical sterilization systems, or the respective service contract.
As well as, table with sink, Doayan box, Mayo tray, two containers with lids for disinfectant solutions, mayo scissors, scalpel handle, dissection forceps with teeth, dissection forceps without teeth, torunero, Kelly forceps, mosquito forceps straight and curved, needle holder, 250 ml kidney.
Dermatology
It must have a fulguration equipment, a lamp with a three-diopter magnifying glass, Piffard or Douglas dermal curettes or technological equivalent, hair removal tweezers, biopsy tweezers, and a comedone extractor with a lancet.
Obstetrics Gynecology
It must have a work table to prepare slides, if it is not linked to a hospital, a dry or humid heat sterilization system and to store sterile material.
As well as an amplifier of fetal heartbeat and uterine contractions or its technological equivalent, device to cauterize or fulgurator.
Have an airtight container for disinfectant solutions, 250 ml kidney, rollable bucket holder, 12 liter stainless steel bucket (yellow bag).
You must have three vaginal mirrors of each size, a hysterometer, Metzenbaum scissors, and a torunero.
In addition, Pozzi forceps, cervix biopsy forceps, endometrial biopsy forceps, uterine forceps, cervix grasping forceps.
Do you have an ophthalmology office and you are still not sure what type of material and instruments you should have to guarantee the health of your patients? 👁️🩺

You can now consult the Clinic self-verification guide.✅https://t.co/9g1DWFGeKX pic.twitter.com/joIcmN1v7C

— COFEPRIS (@COFEPRIS) June 21, 2022
Physical Medicine and Rehabilitation
The office must also have a tape measure, goniometer, reflex hammer and plantoscope.
Pulmonology/Inhalotherapy
It must have: a spirometer or technological substitute, instrumental treatment systems (bronchial brush, bronchial biopsy forceps or its technological equivalent).
In case of offering the inhalation therapy service, it must have: table with sink, reclining chair, humidifying vaporizer, nebulizer, micro-nebulizer or its technological equivalent.
Neurology and Neurosurgery
Must have a letter to measure visual acuity, Weber compass and container for strong odors, hand dynamometer.
As well as equipment for minor surgery, test tubes with hot and cold water and a percussion hammer with attachments for exploring skin sensitivity.
Orthopedics and Traumatology
Must have: work table with double sink and plaster trap, large percussion hammer for reflexes, dissection forceps with and without teeth, rochester forceps, plantoscope and somatometry system.
Likewise, you must have a plaster clamp, Stryker saw, button scissors, alligator scissors, scissors to remove stitches and pressure scissors.
Pediatrics
It must have a baby scale, a sphygmomanometer with a cuff for infants and schoolchildren, an infantometer, and a 4.5-cubic-foot refrigerator, in case of vaccination.
proctology
It must have a special proctological examination table, instrument disinfection box, Doayan box, swab, endoscopy equipment, dressing equipment, and an electrosurgical unit.
Urology
It must also have a dressing trolley, an instrument box with a lid, a minimum cystourethroscope with two 20 and 22 Fr. jackets with its power source and cable attachments, a container with a lid for sterilizing solutions.
As well as with scalpel handle, dissection forceps with and without teeth, kelly forceps, straight foerster forceps, needle holders, mayonnaise scissors, scissors to remove stitches, torunero, kidney.
You must also have: urine hydrometer or its technological equivalent, set of candles, set of urethral dilators, set of toggles, three-way catheters, balloon urethral catheters.
Ophthalmology
It must have a table for ophthalmological instruments, patient chair, test frame, test lens box, perimeter (or corresponding technological substitution), exophthalmometer, phoropter.
As well as: a set of remote primers or their technological equivalent, a set of explorer probes for the tear ducts, a keratometer or a skiascope.
They must also have a slit lamp, a lensmeter, a 20-diopter anaspheric magnifying glass, an occluder, a perimeter, a prism to measure phoria, and a retinoscope.
Likewise, it must have a tonometer, a needle for foreign bodies, needles for washing the lacrimal ducts, a blepharostat, and a Bard Parker box with transfer clamp.
The establishment must have: a lacrimal punctum dilator, a gouge for foreign bodies, a set of mirrors for a skinoscope, flat and concave.
It must have a scalpel handle or its technological equivalent, straight conjunctive forceps, curved iris forceps, without teeth, fixation forceps, eyelash forceps, airtight container for disinfectants (sterilizer if applicable), undoing separators, scissors to remove stitches , and iris scissors.
Otorhinolaryngology
It must have an otorhinolaryngology examination chair, with circular movement and the possibility of varying height and inclination.
You must also have a sterilizer, fenestrated adapter for ear aspirators (Guilford-Wright), Lambbury applicator, metal applicator with triangular or ribbed tip type Lathbury or Brown, Billeau handle, vanalyea cannula, with blunt tip, caliber 15 ga (1.8 mm), cerumen spoon or loop, angled paracentesis or myringotomy knife, metal syringe for flushing, Frazier aspirator set No. 6-8 and 10, ear aspirator set No. 16G, 18G and 20 g.
Likewise, it must have a set of laryngeal mirrors No. 2-4-6 and 8, a set of three tuning forks 256, 512 and 1024 Hartman type, alcohol lamp, frontal lamp or frontal mirror, in this case it is necessary to have a lamp with steerable beam, universal handle for laryngeal mirror and biopsy forceps.
The office must also have: burner, pedestal or wall microscope with halogen lighting with double lamp, diopter adjustment in 12.5 wide-angle eyepieces with 200 mm objective, otoscope with 2X magnifying lens with its set of otic cones, Politzer pear, Hartman cup 0.6mm forceps, 13.5 cm long, adult and child rhinoscope, metallic kidney and transilluminator.
Psychiatry
It must have a seat for the doctor, a seat for the patient and companion, couch or chair, desk, system for storing clinical records and cabinet for storing equipment and supplies.
Psychology
It should only have sufficient and adequate space for the interview, as well as for the psychotherapeutic intervention, in addition to: a seat for the psychologist, a seat for the patient and his companion, a system for storing clinical records.
On the other hand, you must not forget that in addition to all the requirements mentioned they must also comply with the 16 aspects that apply to all general practices.