The toasts are an invention that well deserve a monument. Simple to prepare, quick and helpful, we can adapt them to the taste and diet of each one. We only have to use the bread of our choice and cover it with vegetables, cheeses, meats, fish, fruits and everything that comes to our imagination. They are versatile to say the least and the proof is here, in these 29 toasts (or toasts) for breakfast or dinner, original, delicious and fast.
We could say that we have one for each day of the month, but it will not be, unless we are talking about February. However, we are sure that you have some more recipe to add to our proposals for toast for breakfast or dinner. We would be delighted if you tell us which are your favorites, so we can add to the list and we all win.
Toast without meat or fish
Welsh toast
We preheat the grill at a medium temperature. Melt the butter in a saucepan, add the flour and mix well to make a roux. Keep the saucepan on the heat for 2 or 3 minutes, stirring constantly, until the flour is lightly toasted. Slowly add the beer and stir until well blended. Remove the saucepan from the heat, add the mustard and Worcestershire sauce and stir again. Add three quarters of the cheese and stir until completely melted. Let the mixture cool. Meanwhile, toast the bread slices on both sides until golden brown. Place them on a baking tray and cover them with the cheese mixture. Sprinkle them with the rest of the cheese and a few drops of Worcestershire on top. We put them on the hot grill until they are very golden and bubbly. Serve immediately.
Other toast without meat or fish
Avocado-based toast
Avocado toast with anchovies and cherry tomatoes
Ingredients for one unit: 1 slice of loaf bread, 1 ripe avocado, 1 can of anchovies in oil, 4 cherry tomatoes and fresh chives.

Elaboration: Cut the avocado in half, lengthwise, and remove the bone. Peel and mash the meat in a bowl until obtaining a puree. We can season to taste with salt, pepper, lemon juice, olive oil, etc. or leave it as is. Lightly toast the slice of bread and cover it with a generous amount of the avocado puree. Drain the anchovies from the canned oil and remove the excess with some absorbent paper. We wash the tomatoes and cut into quarters, discs or as we like. Arrange the anchovies and cherry tomatoes on the avocado layer in a harmonious way. Sprinkle with chopped fresh chives.
Other avocado-based toasts
seafood toasts
Aubergine pâté toast with smoked cod
Ingredients for two units: 2 aubergines, 1 garlic clove, 1-2 tablespoons of extra virgin olive oil, 1 teaspoon of lemon juice, 1/2 teaspoon of salt, 1/2 teaspoon of ground cumin, 1/2 teaspoon of dried thyme, pepper black, rustic or country style bread, smoked cod.

Elaboration: Preheat the oven to 200ºC and line a tray with aluminum or sulfurized paper. Wash and dry the aubergines, remove the ends and cut into two halves lengthwise. Make some cuts with diagonal lines, brush with olive oil and place face down on the tray. Bake for about 30 minutes, until very soft. Once cold, peel, removing the skin with your hands. Chop lightly and place in the glass of a blender or grinder. Add the peeled garlic clove, olive oil, lemon, spices and salt. Blend, mixing well, until you get a smooth and homogeneous paste. Add more oil if desired and check the salt point. Cut two slices of bread one finger thick. Toast in a toaster or grill with a little oil. Spread each slice with a good layer of the aubergine pâté and arrange the smoked cod in thin slices on top. Give a hit of pepper and add a little oil, if desired.
Other seafood toasts
Toasts for meat lovers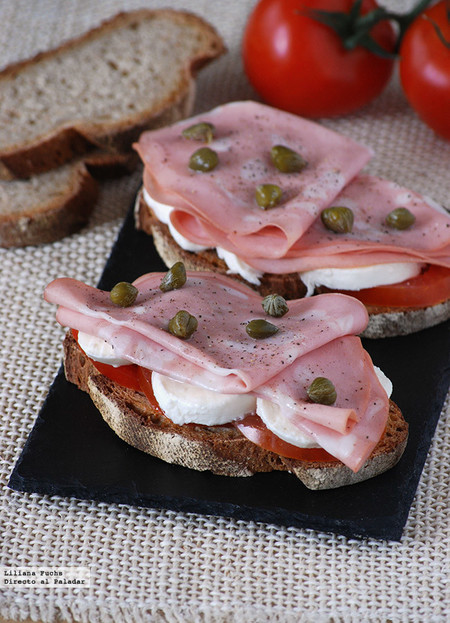 Ingredients for two people: 2 large slices of loaf bread, 2 vine tomatoes (or another tasty variety), 1 fresh mozzarella, 4 slices of Bologna mortadella, extra virgin olive oil, capers, ground black pepper and coarse salt.

Elaboration: Cut the slices of bread, about a finger thick. Brush lightly with olive oil and toast to taste or leave as is. Cut the tomato into not very thick slices. Drain the liquid from the mozzarella and cut into slices of more or less the same size. Distribute two or three slices of tomato on the bread and add a little coarse salt. Place the mozzarella on top, add black pepper and drizzle with a drizzle of olive oil. Arrange the slices of Bologna mortadella on top, folding them on themselves. Top with some drained capers and add a little more pepper or olive oil to taste if desired. Serve preferably at the moment, although they can be stored for a few hours in the fridge, well covered.
Other toasts for meat lovers
Live to the Palate | Torrijas de leche, easy and traditional recipe for Easter
Live to the Palate | French toast, the recipe for French toast, ideal for breakfast and snack