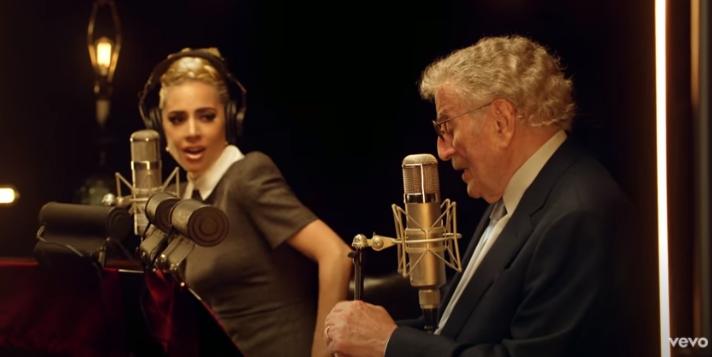 With a video clip featuring behind-the-scenes footage, Lady Gaga and Tony Bennett reveal part of the latest collaboration that will give the world of music and the entertainment business talking.
In the new video, Gaga recounts that she received a call from Bennett shortly after the release of her 2014 album, "Cheek to Cheek," proposing another project. "Tony called me right after. I think it was the next day, after the record was released, and he said, 'I want to make this Cole Porter record with you.'
Almost six years later, the two, who in recent weeks sold out a couple of concerts at the Radio City Music Hall, from New York, are delivering on that promise and releasing what will be the last studio recording of Bennett's career and the culmination of a decade of working together.
"I want kids to listen to jazz, it's important," says Gaga, who will return to Las Vegas in October with her Jazz and Piano show at Park MGM.
The tracks on the new album include: "Do I Love You," "I Get a Kick Out of You," I've Got You Under My Skin, and "Let's Do It." About the latter, Gaga says it is one of her favorite songs.
The trailer is just part of the launch marketing for "Love For Sale."
In early September, it was announced that the campaign will include different strategies, as the pair have partnered with ViacomCBS for three different specials: with CBS, MTV Entertainment Group, and Paramount Plus.
The broadcast plan includes Bennett's return to the "MTV Unplugged" franchise that gave his career a big boost, this time with Gaga.
The first special will be "One Last Time: An Evening With Tony Bennett & Lady Gaga", which will air on CBS on the weekend of Thanksgiving Sunday. The show will also be available on the company's streaming service, Paramount Plus.
The album's advertising campaign will continue with the "MTV Unplugged: Tony Bennett & Lady Gaga", scheduled for the end of the year, although no confirmed air date yet. The show was filmed with very few people in a New York studio. MTV was key in the resurgence of Tony Bennett, when in the 90's he participated in several unplugged.
Finally, the strategy will end with a documentary, "The lady and the legend", available exclusively through Paramount Plus, also with a release date yet to be announced. The content will be an intimate look at a friendship and musical partnership that transcends generations, the special will include images from the making of the album "Love for Sale".
they're so sweet, their friendship and artistic bond is one of a kind… can't wait to listen #LoveForSale 🥺❤️ @itstonybennett @Lady Gaga pic.twitter.com/R6Pz0T4m6O

– Giova (@ ilb4ttista) September 28, 2021
Trailer du nouvel album de @itstonybennett & @Lady Gaga – #LoveForSale. Available on 01/10 chez @Interscope @Polydor.
📺 https://t.co/W0o3KTThUo pic.twitter.com/5RFntE60YR

– JonathanHamard (@JonathanHamard) September 28, 2021