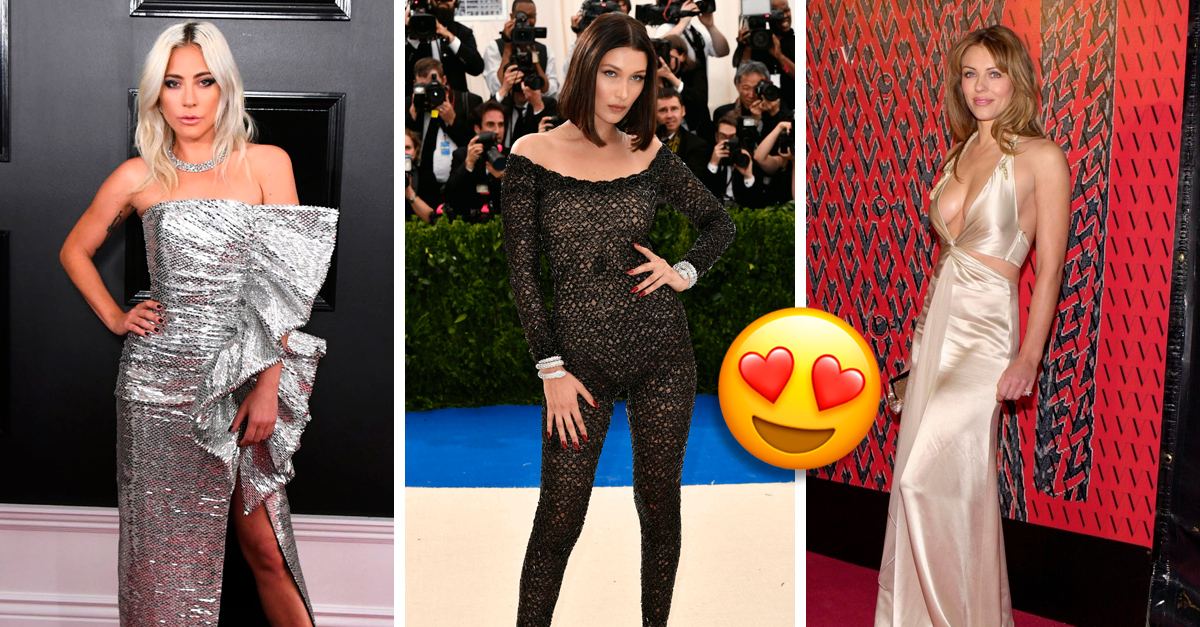 After ending a relationship, the first few days are often filled with sadness. You know, you just want to be in your bed eating trinkets in your pajamas while crying all day. As much as everyone understands how difficult breakups are, for most of us it is not possible to pause our lives as sadness passes and the only thing left is to go out with our heads held high.
Celebrities are no exception, on the contrary, imagine that everyone knew about your love problems and were watching you closely to try to determine how much a breakup affected you. Of course you should shine! Celebrities know this and that is why they show us their best side after going through emotional problems. Next we will tell you about 10 celebrities who dazzled on the red carpet after strong breakups.
1. Diana Spencer
It is not just a dress of revenge, it is THE dress of revenge, for which this term arose. Just the day that Prince Charles publicly admitted his adultery with Camilla Parker-Bowles, Lady Di was seen in this now iconic black dress that made her look, in the words of her butler, "like a million dollars." Nothing better to give a clear and resounding message that she would move on with her life!
2. Mariah Carey
The famous singer was married to Tommy Mottola from 1993 to 1997. In her first public appearance after the divorce at the MTV Video Music Awards, Mariah dazzled the world with this sexy ensemble. Impossible not to turn to see it!
3. Lady Gaga
The beginning of 2019 was a very intense period for Lady Gaga. On the one hand, her acting career took off as few manage to do due to the premiere of A star Is Born and, on the other, ended her engagement with Christian Carino. However, the actress was on top of the world for the rave reviews she garnered for her role as Ally and she showed it on the red carpet at that year's Grammys, where she dressed like the star that she is.
4. Jennifer Aniston
Jennifer Aniston lived one of the most media and commented separations in the history of the show when Brad Pitt, her then husband, cheated on her with Angelina Jolie, which, obviously, caused them to divorce. As Brad built a new family with Angelina, the media expected to see Jennifer devastated. However, this did not happen, as the actress always showed a positive and graceful attitude. In addition, at her first public event after the divorce, she decided to shine as only she knows how to do, in a simple but dazzling gold Chanel beaded gown.
5. Nicole Kidman
Nicole Kidman was married to Tom Cruise for over a decade and during those years, her name was always mentioned alongside the actor's. To make it clear that Tom was a thing of the past, she wore a simple dress strapless with silver details on the premiere from The Others, her first public appearance as a single woman. It stood out effortlessly!
6. Britney Spears
Britney Spears and Justin Timberlake were the couple of the moment in the early 2000s, and of course, if the two were the favorite faces of the pop music industry. When the singer arrived at the premiere of her film Crossroads Without Justin, it was known that there was trouble in paradise, but Britney was smiling as ever. Also, she looked spectacular in her silver dress.
7. Bella Hadid
After his break with The Weeknd, the model and the singer attended the Met gala in 2017, but the interpreter walked the red carpet with his new girlfriend. This did not faze Bella, who stole all the spotlights with her outfit by Alexander Wang, tailor-made, because being a fashion event, the top model he was completely in his element.
8. Elizabeth Hurley
In the 1990s, Elizabeth Hurley and Hugh Grant were one of the public's favorite couples, but this ended 13 years later for various reasons, including the actor's infidelity. Elizabeth always stood out on the red carpets, and her first appearance after their breakup could not be the exception, as the actress captured all eyes with this incredible and sexy gold dress.
9. Jennifer Lopez
J. Lo and Ben Affleck shocked the world this year by resuming their old relationship. However, we do not forget how complicated their separation was so many years ago, when they announced the end of their engagement and their relationship. But sure, Jennifer will always dazzle like the sun and set out to look radiant on the red carpet at the 2004 Golden Globes, her first public appearance after the breakup.
10. Eva Longoria
The actress of Latin American descent was married for seven years to basketball player Tony Parker, a marriage that had a sad end when Eva discovered her husband's infidelity. After such an event, there is nothing left but to continue with her head held high and that is precisely what the protagonist of Desperate wives, who opted for a look very elegant for her first red carpet after divorce.